Visit The Western Wall – Tours of the Holy Land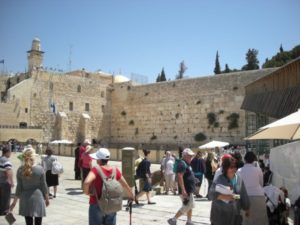 Visit The Western Wall
The Western Wall, sometimes referred to as the Wailing Wall, can be found in the old city of Jerusalem at the foot of the western side of the Temple Mount.
Regarded by most Jews as the most Holy Place in the Holy Land, the Western Wall is the only remaining intact piece of the original outer courtyard wall of the Jewish Temple constructed by Herod the Great. Today, many Jews offer prayers and petitions at the Western Wall as it is the closest point to where the original Holy of Holies was located on the Temple Mount.
A tour of the Western Wall tunnels is also a highly recommended add-on when visiting the Temple Mount area. This tour gives visitors a true perspective of the size of the original temple in the time of Yeshua and the enormity of the construction which was undertaken.
Located 2 minutes walk from the Western Wall is the Davidson Center which is also worthy of a visit while in this location. It features many uncovered archaeological finds in the Temple Mount area and also allows visitors to walk up the original Southern Steps into the temple – a place where Yeshua would have definitely walked and may have even taught. Here you will truly be walking in the foot steps of Jesus!
Tips and advice for your Holy Land Tour
Tip 1: Be sure to visit the Jewish quarter, just up the steps from the Western Wall.
Tip 2: Keep your eyes open for the Replica Golden Menorah from the second Temple.
Tip 3: If you want to go up to the Western Wall be sure to go the the correct side – one side for males, one side for females.