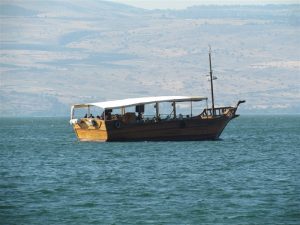 Our one day private Galilee & Nazareth tour begins around 7:00am. One of our Christian tour guides will come to collect you (and your group) from your accommodation. From there you will be whisked away for a full day of insight, revelation and blessing as you visit the places where Jesus lived, taught and performed many of the miracles written about in the New Testament.
After departing Jerusalem you will begin a 1.5 – 2 hour journey North towards Nazareth.  Upon arrival you will visit the Nazareth village to experience what life was really like in the time of Jesus. (if time allows you will also visit the Jesus ruins)
Continuing, we will drive through Cana (site of Jesus first miracle at the wedding feast – turning water into wine) before arriving on the shores of the Sea of Galilee (Lake Kinneret).
We will continue travelling around Galilee with various stops at all of the major sites related to Jesus including Capernaum (The home town of Jesus) , Tabgha (Loaves & Fishes), Church of the Multiplication (Feeding of the 5000) and the Mount of Beatitudes (Sermon on the mount).
After walking in the footsteps of Jesus on land we will then progress to take a boat ride on the Sea of Galilee – the place where Jesus walked on water.  This is something which should not be missed.
For a once in a lifetime tour around the major sites related to Jesus in the Galilee, this is the best tour you will find.
Collection from your hotel(Jerusalem or Tel Aviv* – for Tel Aviv an additional surcharge will be made)
All Transportation
All Entry Fees
Private Christian Guide & Driver
Sites Visited:
Nazareth Village (or the Basilica of Mary & Jesus Ruins)
Cana
Sea of Galilee
Capernaum
Tabgha
Church of Multiplication
Mount of Beatitudes
Boat ride on the Sea of Galilee
 Note: the Nazareth Village has chosen to close on Weekends at this time.  It is only open Mon-Fri.
PLEASE NOTE: This is a PRIVATE TOUR with PRIVATE TRANSPORTATION. The only people on this tour will be your own group of people and one of our tour guides.
This is not like tours been offered by other companies which often have groups sizes of 20 – 50 passengers. By booking this tour you will have your own PRIVATE guide for the full day along with PRIVATE transportation. In addition, all entry fee's ARE included in the prices of ALL of our tours. Many companies offer tours which don't include entry fee's.
The one day private Galilee / Nazareth tour can be amended to suit people with walking impediments – please contact us for details.
For prices and more information, please refer to the price tab above. For group discounts, please email us directly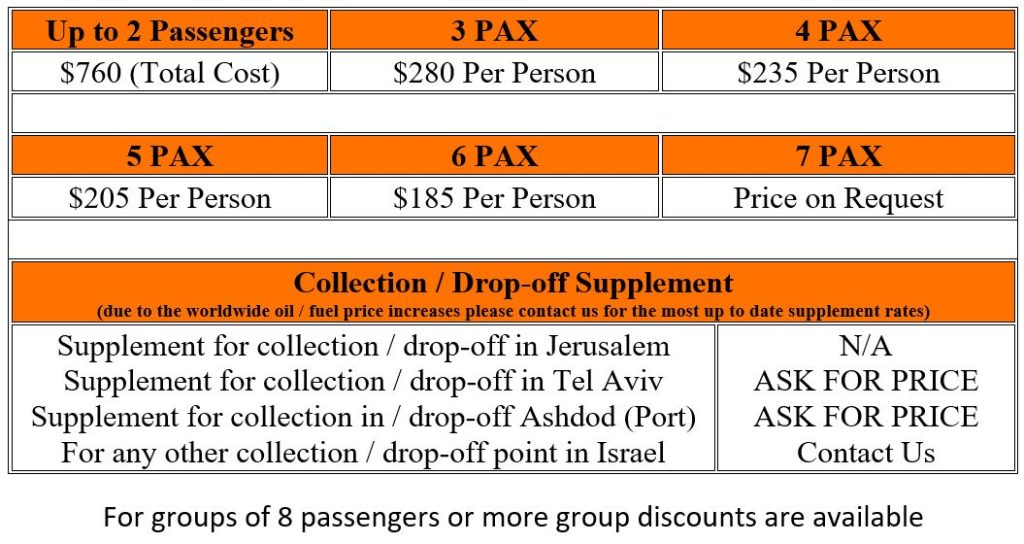 Booking
Please fill in the form below to request and someone will contact you asap.
One Day Private Galilee Tour
One Day Galilee / Nazareth Tour
Tour Details
Tour Type:
Class:
Duration:
Participants:
Price:
Private Tour
Business Class
7:00am – 7:00pm
Min 2 PAX
from $185.00
Additional Info
Pace:
Entrance Fees:
Tips:
Meals:
Easy Going
Included
Not Included
Not Included