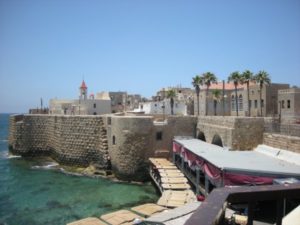 Our one day private Caesarea / Megiddo / Haifa / Acre tour begins around 7:00am. One of our Christian tour guides will come to collect you (and your group) from your accommodation. From there you will be whisked away for a full day of insight, revelation and blessing as you visit the most popular sites on the Mediterranean Sea Coastline.
After departing Jerusalem we will head East towards Tel Aviv.  Turning North we will drive up the Old Damascus Road (Paul) to Caesarea Maritima – Herod's Maritime Port City.  This impressive site is something which should not be missed and has many mentions in the New Testament in relation to Paul, Peter and even Pontius Pilate.
Continuing North our next stop will be at Megiddo (Armageddon – the site where the final battle is to take place – book of Revelation.)
Further North still we enter Haifa and will travel over Mt Carmel to Muhraqa where Elijah called down fire.  Here you will be simple awestruck at the 360 degree panoramic views of the Jezreel Valley, Plains of Armageddon and a lot, lot more.
A little further North and we will arrive at our final stop for the day – Acre (Akko).  This world heritage site has been home to the Ottomans and Crusaders over the centuries and today is one of the most visited sites in Israel.
Many more sites / places of interest will be pointed out / explained on route – far too many to mention here.
Collection from your hotel

(Jerusalem or Tel Aviv* – for Tel Aviv an additional surcharge will be made)

All Transportation
All Entry Fees
Private Christian Guide & Driver
Sites Visited:
Old Damascus Road
Caesarea
Megiddo
Haifa
Mt Carmel
El Muhraqa
Acre (Akko)
PLEASE NOTE: This is a PRIVATE TOUR with PRIVATE TRANSPORTATION. The only people on this tour will be your own group of people and one of our tour guides.
This is not like tours been offered by other companies which often have groups sizes of 20 – 50 passengers. By booking this tour you will have your own PRIVATE guide for the full day along with PRIVATE transportation. In addition, all entry fee's ARE included in the prices of ALL of our tours. Many companies offer tours which don't include entry fee's.
The one day private Caesarea / Megiddo / Haifa / Acre tour can be amended to suit people with walking impediments – please contact us for details.
For prices and more information, please refer to the price tab above. For group discounts, please email us directly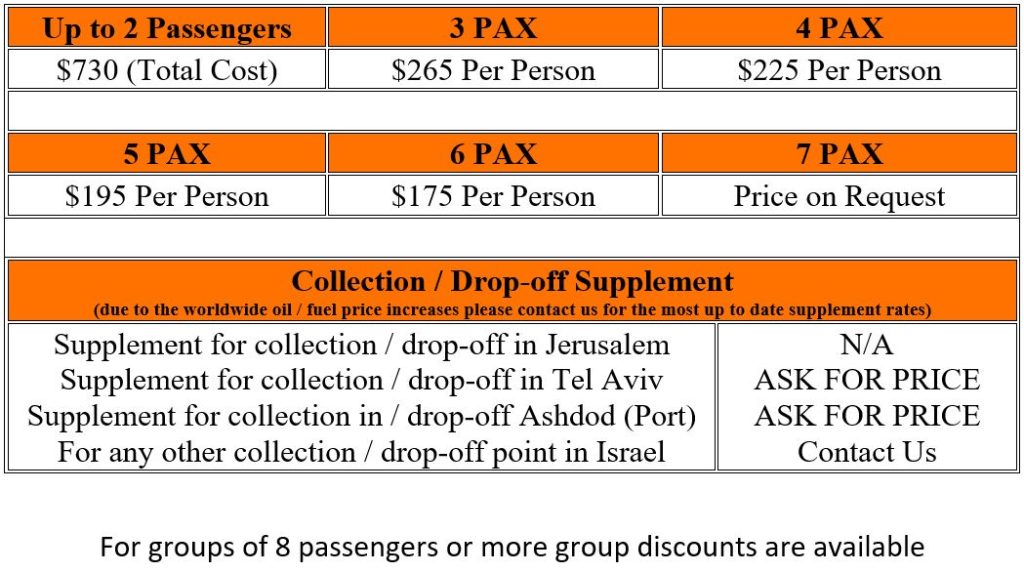 Booking
Please fill in the form below to request and someone will contact you asap.
One Day Private Caesarea Tour
One Day Caesarea / Megiddo / Haifa / Acre Tour
Tour Details
Tour Type:
Class:
Duration:
Participants:
Price:
Private Tour
Business Class
7:00am – 7:00pm
Min 2 PAX
from $175.00
Additional Info
Pace:
Entrance Fees:
Tips:
Meals:
Easy Going
Included
Not Included
Not Included