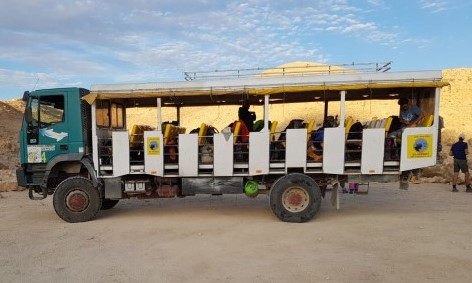 We have a vast range of 4×4 desert tours available to suit all ages. Everything from 4×4 Jeep tours in the Wilderness of Zin or the magnificent Wadi Rum to 30 – 40 seat all terrain vehicles (for larger groups) in the Arava or Judean Deserts.
Our desert tours can run from 4 hours up to a full 3 days depending on your requirements. Why not see the Bible in a different way while touring Israel and drive around the areas where Moses wandered for 40 years.
For more details please feel free to contact us using the contact tab above.
Collection from your hotel
(Jerusalem or Tel Aviv* – for Tel Aviv an additional surcharge will be made)
All Transportation
All Entry Fees (where necessary)
4 x 4 off-road vehicles (with guides)
Meals (where necessary)
4 x 4 Tours can be designed to your exact specifications and prices are based on several factors:
the number of passengers
the time you want to tour for
the areas you want visit while on safari
the collection / drop-off point
meal basis while on tour (does the group require meals)
If you can supply us with some information we will get prices for you right away.
Booking
Please fill in the form below to request your one day baptism tour and someone will contact you ASAP.