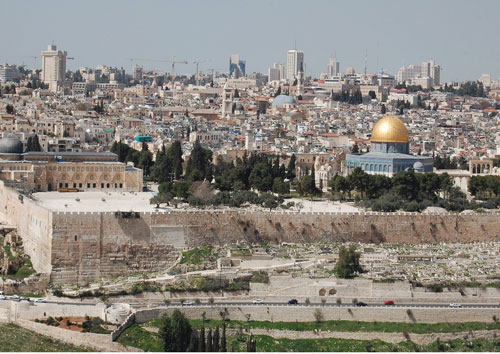 Our one day private Jerusalem tour begins around 8:30am. One of our Christian tour guides will come to collect you (and your group) from your hotel. From there you will be whisked away for a full day of insight, revelation and blessing as you begin to walk in the footsteps of Yeshua (Jesus).
The tour begins with a short car or coach journey (depending on group size) to the top of the Mount of Olives. From the top of the mount you will see a panoramic view of the Old City – a view Yeshua would have witnessed many, many times before entering Jerusalem.
After an explanation of the Kidron, Hinnom & Tyropean Valley's your guide will begin leading you down the path taken by Yeshua on Palm Sunday. Your group will make various stops as you descend the mount, eventually arriving at the Garden of Gethsemane – where Jesus spent time in prayer, crying out to God before His arrest.
Continuing in the footsteps of Yeshua, the group will then leave the garden and enter the Old City of Jerusalem through the Lions Gate. Once inside, you will be taken to the Pools of Bethesda (where Jesus healed the cripple) and the Antonia Fortress, where He stood trial before Pilate.
Continuing your journey, you will next walk along the Via Dolorosa (Walk of Sorrows) where Yeshua carried His cross, with stops at The Church of the Holy Sepulchre, The Cardo, The Jewish Quarter and finally the Kotel – where you will take a tour of the Western Wall tunnels and have the opportunity to pray at the Western Wall.
After a brief stop for lunch, your journey will continue with a visit to David's City (the original Jerusalem built by King David) and a walk through Hezekiah's tunnels ending at the Pools of Siloam.
Next stop will be a visit to Mt Zion (with the Upper Room, Caiphas House, St Peter in Gallicantu and David's Tomb) before re-entering the Old City via the Jaffa Gate.
The final leg of the journey will take your group through the Jerusalem Bazaar's, across the roof top walk way, finally to the Garden Tomb (Golgotha – Skull Hill) – a probably site of the Death and Resurrection of Jesus Christ.
Collection from your hotel
(Jerusalem or Tel Aviv* – for Tel Aviv and additional surcharge will be made)
All Transportation
All Entry Fees
Private Christian Guide & Driver
Mt of Olives
Dominus Flevit
Garden of Gethsemane
Pools of Bethesda (St Ann's)
Antonia Fortress
Via Dolorosa
Church of the Holy Sepulchure
Cardo
Jewish Quarter
Western Wall & Western Wall Tunnels
David's City
Hezekiah's Tunnels
Pools of Siloam
Mt Zion
Upper Room
Caiaphas' House – St Peter in Gallicantu
David's Tomb
Roof Top Walkway
Garden Tomb
PLEASE NOTE: This is a PRIVATE TOUR with PRIVATE TRANSPORTATION. The only people on this tour will be your own group of people and one of our tour guides.
This is not like tours been offered by other companies which often have groups sizes of 20 – 50 passengers. By booking this tour you will have your own PRIVATE guide for the full day along with PRIVATE transportation. In addition, all entry fee's ARE included in the prices of ALL of our tours. Many companies offer tours which don't include entry fee's.
The one day private Jerusalem tour can be amended to suit people with walking impediments – please contact us for details.
For prices and more information, please download a copy of our brochure – link below. For group discounts, please email us directly.
One Day Private Jerusalem Tour – One Day Israel Tour Brochure
Booking
Please fill in the form below to request and someone will contact you asap.
Tour Details
Tour Type:
Class:
Duration:
Participants:
Price:
Private Tour
Business Class
8:30am – 7:00pm
Min 2 PAX
from $105.00
Additional Info
Pace:
Entrance Fees:
Tips:
Meals:
Easy Going
Included
Not Included
Not Included