Visit Calvary and The Garden Tomb – Holy Land Tours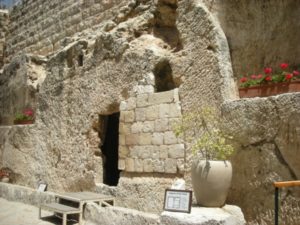 Visit Calvary and the Garden Tomb
– Located a few minutes walk from the Damascus Gate, Gordon's Calvary and the Garden Tomb is a must see location for all Christian's who visit Jerusalem.
The site is believed by many to be the very location of the crucifixion and resurrection of Jesus Christ. The Bible gives us several clues as to the location of Golgotha (The Place of the Skull) and the Garden Tomb ticks all of the boxes:
It is outside of the city walls; it is in a garden; the Calvary escarpment resembles the face of a skull; it was a site of early Christian worship; it boasts an unused tomb that was hastily altered to suit someone else; the place for a stone to be rolled to seal the tomb is still visible today; earthquake damage near the tomb is still visible; the list goes on and on…
There is also a second possible location for the site of Golgotha found within the old city of Jerusalem – The Church of the Holy Sepulchre. This site also boasts many of the factors listed in the Bible pointing to the location of the site of Jesus' crucifixion and resurrection.
Gordon's Calvary and the Garden Tomb is one place in the old city of Jerusalem which should not be missed. Every believer should visit this site, as only by been there can you experience the peace which envelops this Biblical Location.
Tips and advice for your Holy Land Tour
Tip 1: When you visit this location take a little time for yourself just to feel the peace and serenity within the garden
Tip 2: Keep an eye out for the remains of the old ancient nail at the left had side of the entrance to the tomb – could it have been the nail the Romans sealed the tomb with?
Tip 3: The site is run by a Christian charity – the Garden Tomb Association – please support them by taking a look in the gift shop