Visit the Sea of Galilee and Tiberius – Tours of the Holy Land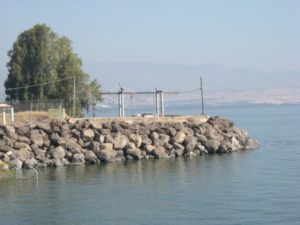 Visit the Sea of Galilee and Tiberius
The Sea of Galilee can only be described as a place of beauty and tranquility. Located in the North of Israel, the area of Lake Kinneret as it is sometimes known, was the main location for many of the stories and miracles of Yeshua (Jesus) given in the gospel accounts.
It was around the Sea of Galilee where Jesus spent most of His three year ministry, where He lived, where He had friends, where He taught the multitudes and where He walked on water.
This is a very special place to visit for any Christian and one which brings the gospel accounts to life in a very real way.
A boat trip on the Sea of Galilee is normally one of the highlights of most of our Holy Land tours and is an opportunity for the believer to try getting out of the boat, and walk on the water – that is if Yeshua tells you to do so, of course!!.
Tiberius, on the western shore of Galilee, was the main Roman Center in the time of Yeshua and today is one of the four Holy Cities in Israel for Jews. Being the capital city of Galilee, it boasts a diverse range of activities – anything from Archaeology and History to shopping centers and restaurants.
Tips and advice for your tour of the Holy Land
Tip 1: When booking your Holy Land tour, if your budget can stretch to it, try to stay a few nights in a hotel on the shores of the Sea of Galilee. This unique location is a place for Christians to meet with Yeshua in a new and personal way. Many Christian visitors to the Holy Land have said that Galilee was one of their favourite locations, and one where they felt closest to the Lord. Our personal favourite Hotel in the Galilee area is the Ron Beach Hotel and is located right on the shore line – ideal for an early morning dip!!