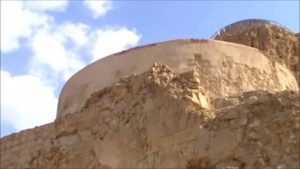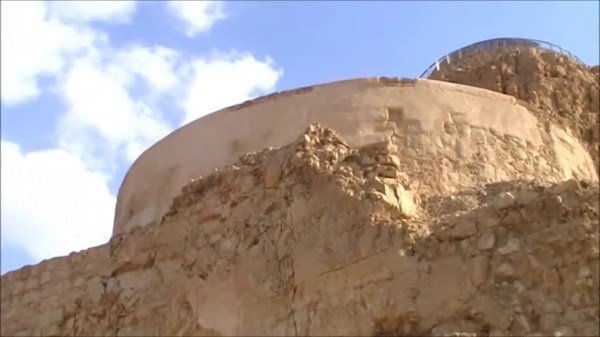 Our one day private Masada / Dead Sea tour begins around 8:30am. One of our Christian tour guides will come to collect you (and your group) from your accommodation. From there you will be whisked away for a full day of insight, revelation and blessing as you visit the magnificent Masada and the lowest place on Earth – the Dead Sea..
Departing Jerusalem to the East you will soon find yourself entering the Judean Wilderness with the country of Jordan in the distance. We will first stop at Qumran – the location where the famous Dead Sea scrolls were found and ancient home to the Essene's.
Continuing North you be enthralled by the beauty of the desert before arriving at Herod's mountain fortress – Masada. Here you will be transported by cable car to the top of the mountain where you will experience breathtaking views of the Arava Desert, Gomorrah, the Dead Sea and even the ancient Roman ramp and encampments that was build during the siege of Masada.
After exploring Herod's mountain fortress you will be returned back to Earth and transported to the Dead Sea. Here you can enjoy a swim (float) in the famous mineral filled sea where people find it impossible to sink.
Leaving the Dead Sea area we will make one final stop at the Ahava Factory where you will be able to purchase their products at reduced prices directly from the factory.
If time allows we will also make a stop at Ein Gedi – the site which is mentioned many times throughout the Bible and the place where David cut off a piece of King Saul's tunic while hiding in the caves.
Collection from your hotel

(Jerusalem or Tel Aviv* – for Tel Aviv an additional surcharge will be made)

All Transportation
All Entry Fees (including the cable car fee at Masada for both directions)
Private Christian Guide & Driver
Sites Visited:
Qumran
Masada
Dead Sea
Ahava Factory
Ein Gedi (if time allows)
For anyone wanting to climb the Snake Trail at Masada – this can be arranged if requested as long as the trail is open.  On hot days the trail is often closed by Masada staff.
You should bring along sun tan lotion on this tour.  Also a sun hat and swimming gear / towel.
PLEASE NOTE: This is a PRIVATE TOUR with PRIVATE TRANSPORTATION. The only people on this tour will be your own group of people and one of our tour guides.
This is not like tours been offered by other companies which often have groups sizes of 20 – 50 passengers. By booking this tour you will have your own PRIVATE guide for the full day along with PRIVATE transportation. In addition, all entry fee's ARE included in the prices of ALL of our tours. Many companies offer tours which don't include entry fee's.
The one day private Masada / Dead Sea tour can be amended to suit people with walking impediments – please contact us for details.
For prices and more information, please refer to the price tab above. For group discounts, please email us directly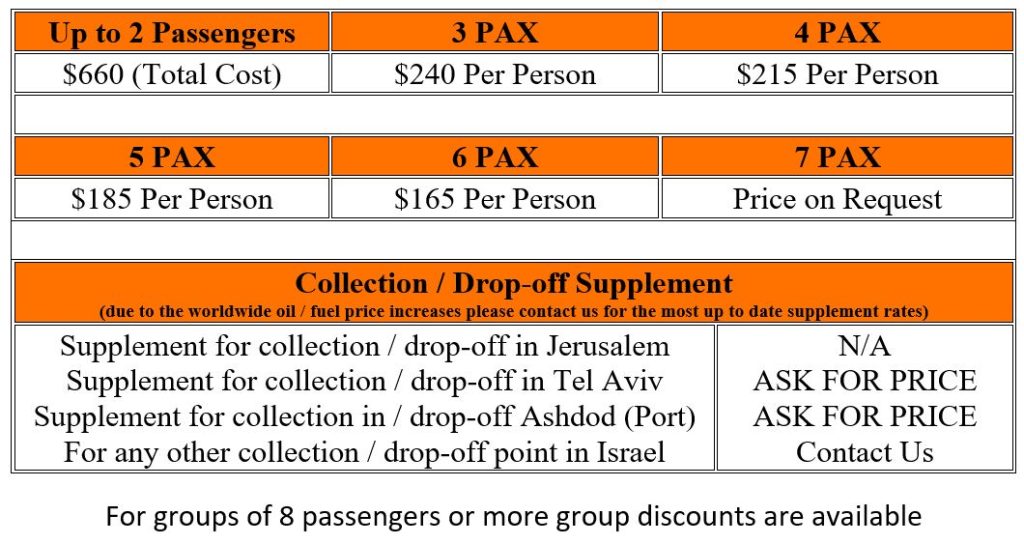 Booking
Please fill in the form below to request and someone will contact you asap.
One Day Private Masada / Dead Sea Tour
One Day Masada / Dead Sea Tour
Tour Details
Tour Type:
Class:
Duration:
Participants:
Price:
Private Tour
Business Class
8:30am – 6:30pm
Min 2 PAX
from $165.00
Additional Info
Pace:
Entrance Fees:
Tips:
Meals:
Easy Going
Included
Not Included
Not Included