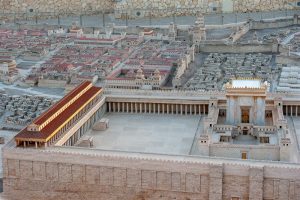 Our one day private Old & New Jerusalem tour begins around 8:30am. One of our Christian tour guides will come to collect you (and your group) from your accommodation. From there you will be whisked away for a full day of insight, revelation and blessing as you begin to discovery the New City and Old Jerusalem (Side by Side).
The tour covers several of Jerusalem's main museums including Yad Vashem (The Holocaust Museum) and the Israel Museum with the world famous Shrine of the book (Dead Sea Scrolls) and the amazing Jerusalem model – a must see for every visitor interested in Biblical history.
After a short lunch break you will then experience the ancient city of Jerusalem – from the time of King David with a 3D travel through history.  Stand in the very places where David wrote some of the Psalms and see the panoramic views of the Kidron Valley, imagining David looking over at Bathsheba bathing below.
From the ancient city of David you will next descend into Hezekiah's tunnels, the ancient water route hewn out of solid bedrock before arriving at the Pools of Siloam, where one of the healing of Jesus took place.
The day will finish with a visit to Ben Yehuda market (the shuk) where you will be able to explore the colourful bazaars and stalls.
Collection from your hotel

(Jerusalem or Tel Aviv* – for Tel Aviv an additional surcharge will be made)

All Transportation
All Entry Fees
Private Christian Guide & Driver
Sites Visited:
Yad Vashem
Israel Museum
Shrine of the book
Jerusalem Model
City of David
Hezekiah's Tunnels
Ben Yehua Market (Shuk)
If time allows: Western Wall / Kotel Area
PLEASE NOTE: This is a PRIVATE TOUR with PRIVATE TRANSPORTATION. The only people on this tour will be your own group of people and one of our tour guides.
This is not like tours been offered by other companies which often have groups sizes of 20 – 50 passengers. By booking this tour you will have your own PRIVATE guide for the full day along with PRIVATE transportation. In addition, all entry fee's ARE included in the prices of ALL of our tours. Many companies offer tours which don't include entry fee's.
The one day private Old & New Jerusalem tour can be amended to suit people with walking impediments – please contact us for details.
For prices and more information, please refer to the price tab above. For group discounts, please email us directly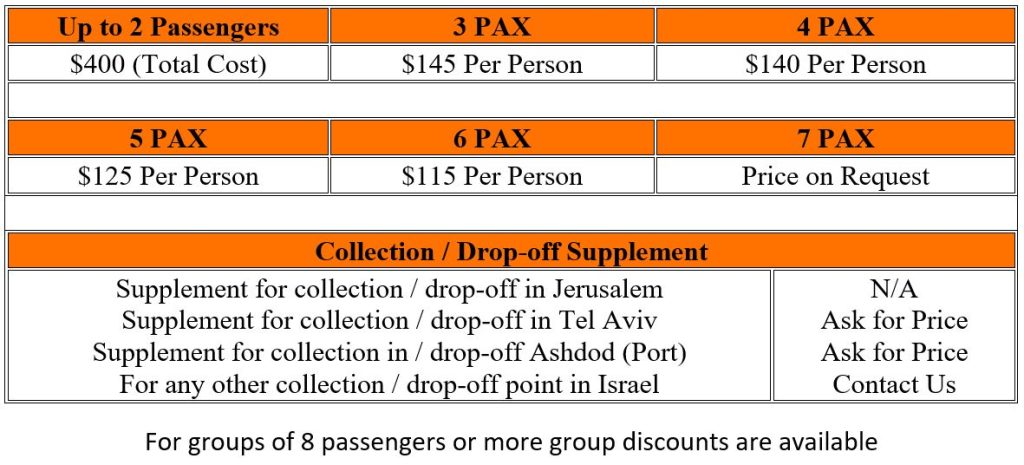 Booking
Please fill in the form below to request and someone will contact you asap.
One Day Private New Jerusalem Tour
One Day New Jerusalem Tour
Tour Details
Tour Type:
Class:
Duration:
Participants:
Price:
Private Tour
Business Class
8:30am – 6:00pm
Min 2 PAX
from $115.00
Additional Info
Pace:
Entrance Fees:
Tips:
Meals:
Easy Going
Included
Not Included
Not Included