Visit Capernaum – Holy Land Tours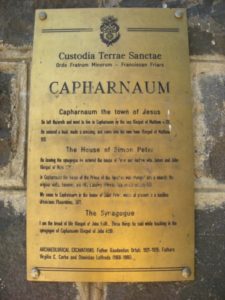 Visit Capernaum (Kfar Nahum) – The Town of Jesus.
Situated on the Sea of Galilee, Capernaum is a must see location for all believers. This is the small town where Jesus lived, taught and performed many of the miracles recorded in the New Testament. To name but a few:
– the healing of the cripple lowered through the house roof
– the healing of Peter's Mother-in-law
– the place where Jesus met the centurion whose daughter was healed
– the place where Jesus taught in the synagog
– one of the places Jesus include in His woe's
Visitors today can walk through the uncovered ancient town, including an ancient synagogue, which is built on the foundations of the actual synagogue Jesus would have taught in; visit Peter's mother-in-law's house, see remains of the ancient houses people lived in and even see remains of an old wine press.
A visit to Capernaum is really a 'must see' Biblical location for those visiting Israel for the first time, and is also one of the Biblical Sites people return to again and again.
To stand in the very location where Jesus lived, taught and performed many miracles really brings the scripture of the New Testament to life in a way that can only be experience in this location, and a few other around Israel.
Be sure to include this destination on to your Holy Land Tour itinerary.
Tips and advice for your Holy Land Tour
Tip 1. Bring a Bible along to this location and watch the scripture come to life