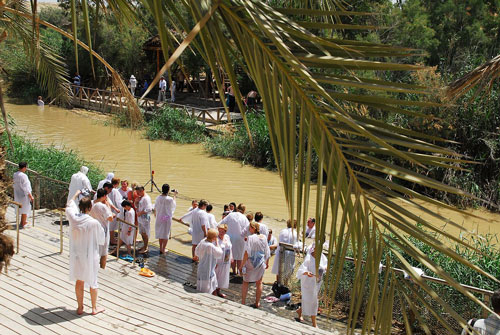 Our one day Jordan River Baptism tour begins in Jerusalem, where one of our private tour guides will come and collect you (and your group) from your hotel. From there you will be whisked away for a full day of insight, revelation and blessing as you begin to walk in the footsteps of Yeshua (Jesus).
The tour begins with a departure from Jerusalem to the East. You will be driven towards the Jordanian Border and home to one of two sites traditionally attributed with the Baptism of Yeshua by John The Baptist. Qasr el Yahud (Bethany by the Jordan) is the more likely of the two possible locations, due to its proximity to the Mount of Temptation, and today is one of the most visited locations by Christians visiting Israel.
On route to Qasr el Yahud, you will visit a whole host of locations including: *Wadi Quelt, the Old Jericho Road, the Old Pilgrims road and of course the Jordan River. Here you will be given the opportunity to be baptised at the very site where Yeshua is said to have been immersed by John.
After your baptism our guides will follow the biblical narrative and head out towards the Mount of Temptation, where Yeshua was tempted after fasting for 40 and 40 nights. You will visit the view point at the bottom of the mountain before having the opportunity to take a closer look at Jericho, with visits to the Ancient walls which came tumbling down and a visit to the traditional site of Elisha Well.
Time permitting, we will then begin our journey back towards Jerusalem with stops at the Dead Sea (for a swim) and *Qumran to learn about the discovery of the now world famous Dead Sea Scrolls. What are you waiting for – Book your tour today for a once in a lifetime experience.
Tour Option:  Due to popular demand the baptism tour can now be done in two ways – as listed above or with the addition of Bethlehem.  Please see the 'includes' tab above for more details.
Collection from your hotel
(Jerusalem or Tel Aviv* – for Tel Aviv an additional surcharge will be made)
All Transportation
All Entry Fees
Baptism Ceremony & Robes
Private Christian Guide & Driver
Option 1
Wadi Quelt
View on ancient pilgrims road
Old Jericho road
Judean wilderness
Qasr el Yahud – Jordan River Baptismal Site
Mt of Temptation view point
Jericho
Eilisha's Well
Dead Sea (for a swim)
Qumran
Option 2
View on ancient pilgrims road
Judean wilderness
Qasr el Yahud – Jordan River Baptismal Site
Mt of Temptation
Jericho
Dead Sea (for a swim)
Bethlehem (church of the Nativity & Shepherds field)
Mt of Olives
PLEASE NOTE: This is a PRIVATE TOUR with PRIVATE TRANSPORTATION. The only people on this tour will be your own group of people and one of our tour guides.
This is not like other tours been offered by other companies which often have groups sizes of 20 – 50 passengers (and where the first 1 – 1.5 hours is spent collecting people from various locations / hotels before commencing the tour). By booking this tour you will have your own PRIVATE guide for the full day along with PRIVATE transportation. In addition, all entry fee's ARE included in the prices of ALL of our tours. Many companies offer tours which don't include entry fee's.
The one day private Baptism tour can be amended to suit people with walking impediments – please contact us for details.
For prices and more information, please see the 'prices' tab above. For group discounts, please email us directly.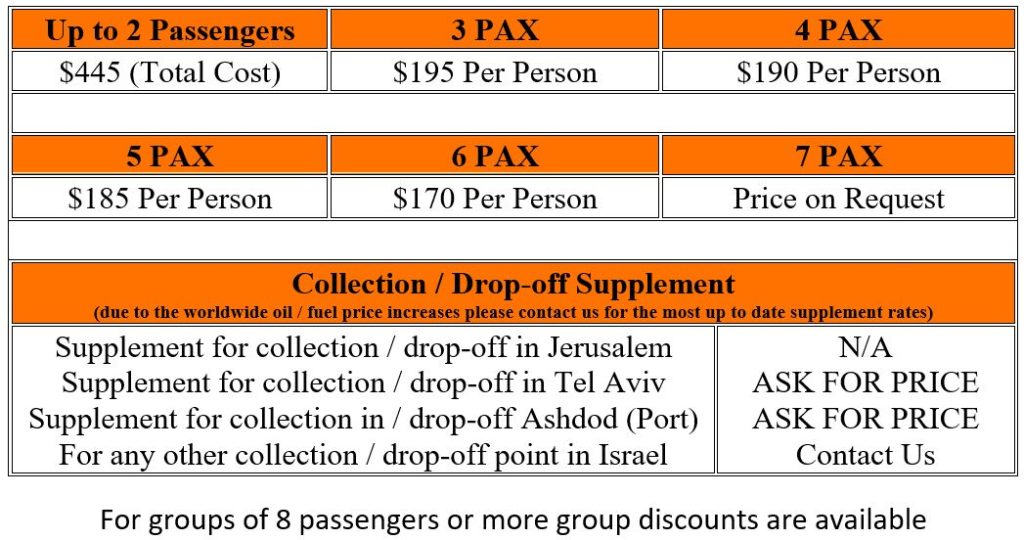 Booking
Please fill in the form below to request your one day baptism tour and someone will contact you ASAP.
One Day Private Baptism Tour
One Day Private Baptism Tour
Tour Details
Tour Type:
Class:
Duration:
Participants:
Price:
Private Tour
Business Class
8:30am-6:00pm
Min 2 PAX
from $170.00
Additional Info 
Pace:
Entrance Fees:
Baptism Robes:
Tips:
Meals:
Easy Going
Included
Included
Not Included
Not Included