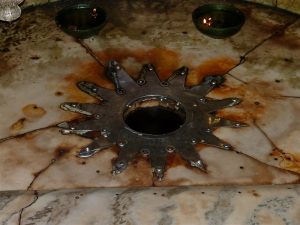 Our one day private Bethlehem tour begins around 8:30am. One of our Christian tour guides will come to collect you (and your group) from your accommodation. From there you will be whisked away for a full day of insight, revelation and blessing as you visit the place where it all began.
After crossing through the security wall into Bethlehem (be sure to bring along your passport) our first stop with be the church of the Nativity & manager square. Here you will have the opportunity to go down into the grotto to see where our Lord and Saviour was born. Next we travel a short distance to the shepherd's fields (fields of Ruth & Boaz) where you will have opportunity to walk in the very places you have read about in the Bible.
Continuing on, the next stop will be Herodium – an impressive palace dating back to the time of King Herod.
Our final stop will be a visit to meet some local Christians living in the West Bank. It may also be possible to visit the local orphanage if this is something the group would like to do.
Depending on time, a few stops on route back to Jerusalem may also be possible
Collection from your hotel(Jerusalem or Tel Aviv* – for Tel Aviv an additional surcharge will be made)
All Transportation
All Entry Fees
Private Christian Guide & Driver
Sites Visited:
Nativity Square
Church of the Nativity
Shepherd's Fields
Herodium
Visit local Christians
A visit to a local orphange may be possible
Depending on time – a few site on route to Jerusalem
PLEASE NOTE: This is a PRIVATE TOUR with PRIVATE TRANSPORTATION. The only people on this tour will be your own group of people and one of our tour guides.
This is not like tours been offered by other companies which often have groups sizes of 20 – 50 passengers. By booking this tour you will have your own PRIVATE guide for the full day along with PRIVATE transportation. In addition, all entry fee's ARE included in the prices of ALL of our tours. Many companies offer tours which don't include entry fee's.
The one day private Bethlehem tour can be amended to suit people with walking impediments – please contact us for details.
For prices and more information, please refer to the price tab above. For group discounts, please email us directly
NOTE: PASSPORTS MUST BE BROUGHT ALONG ON THIS TOUR.  THIS TOUR IS SUBJECT TO THE POLITICAL SITUATION AND CAN BE CANCELLED AT A MOMENTS NOTICE.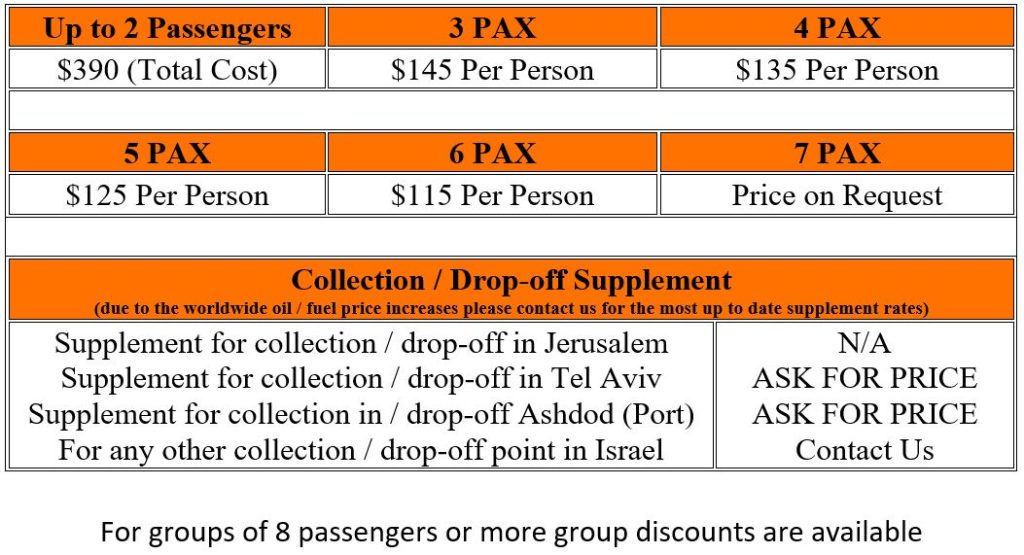 Booking
Please fill in the form below to request and someone will contact you asap.
One Day Private Bethlehem Tour
Tour Details
Tour Type:
Class:
Duration:
Participants:
Price:
Private Tour
Business Class
8:30am – 5:00pm
Min 2 PAX
from $115.00
Additional Info
Pace:
Entrance Fees:
Tips:
Meals:
Easy Going
Included
Not Included
Not Included