Visit the Garden of Gethsemane – Holy Land Tours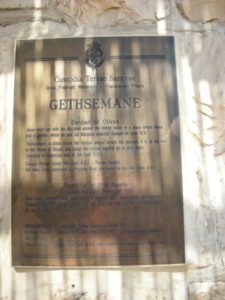 Visit the Garden of Gethsemane – A serene experience located at the bottom of the Mount of Olives adjacent to the Kidron Valley.
The Garden of Gethsemane is the traditional location of the place where Yeshua (Jesus) agonised on the night of his arrest and later crucifixion.
The Garden is one of the key Christian sites in Jerusalem and accommodates gnarled Olive Trees dating back 2000 years, which were probably young saplings at the time of Jesus.
The Church of All Nations, which is within the garden site, was built in 1920 over the remains of earlier churches. The church covers the traditional site where the Bible says Yeshua (Jesus) cried blood on the night of His arrest before been led into the old city. Inside of the church, from floor to ceiling, mosaics can be seen depicting various events and the stone platform, believed by tradition to be the place where Jesus cried blood, can be found main centre stage.
The Garden of Gethsemane is another one of the 'must visit' locations for Bible believing Christians and should be on all Holy Land Tour itineraries.
Visit the Garden of Gethsemane on your tour of the Holy Land. An appropriate place for any believer to experience the Bible, spend time in Pray or Meditation and see the words of scripture come to life.
Tips and advice for your Holy Land Tour
Tip 1: Be sure to walk down the Mount of Olives prior to visiting the Garden of Gethsemane as this will give you a fuller exposure to the stories recorded in scripture. (Note: the walk down the Mount of Olives is very steep and may not be suitable for all travellers – please ask if you have any condition that may hinder you in this activity.)
Tip 2: Directly opposite the Church of All Nations is the Old City walls of Jerusalem. Slightly to the left of the Garden visitors will notice two large gate within the wall that have been blocked up. The blocked up gates are the location the Bible tells us that Yeshua (the Messiah) will re-enter the Old City through on His return.