Visit Jerusalem and the Old City – Holy Land Tour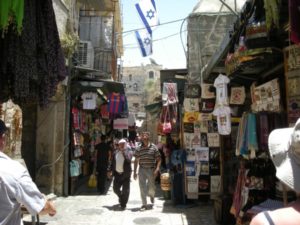 Visit Jerusalem and the Old City
– Jerusalem is the State Capital of Israel; The Holy City of three of the world's largest religions, Judaism, Islam and Christianity.
The Old City, built on a plateau and surrounded by three valleys: the Kidron, The Hinnom and the Tyropoeon, has over 5000 years of history dating from the time of Abraham, through King David, Yeshua (Jesus) and to the present day.
The four quarters within the current city walls accommodate Jewish, Muslim, Armenian and Christians quarters. A walk through any of these areas today brings to life the past, present and future in an exposure of culture and archaeology.
The Old City boasts a large number of locations mentioned in the Bible, both New and Old Testament, and believers can really take a step back in time to see and walk through the places they have read about so many times. Some of the more popular sites include: The Western Wall, The Pools of Bethesda, The Pool of Siloam, The Antonia Fortress, the Via Dolorosa, The Church of the Holy Sepulchre, Hezekiah's Tunnels, The Garden Tomb, Mount Zion, King David's City, The Mount of Olives, the list goes on and on …
The Old City of Jerusalem is definitely a place to visit while touring the Holy Land.
Tips and advice for your Holy Land Tour
Tip 1: Be sure to include a tour of the Western Wall Tunnels – a sight not to be missed.
Tip 2: If you are taking a trip through Hezekiah's Tunnels be sure to take along a pair of shorts and a change of shoes – you may get a little wet!
Tip 3: For those who like shopping, take a visit to the local Shuk (Mahane Yehuda Market)
Tip 4: A visit to the Holocaust Museum (Yad Vashem) is also well worth a visit
Tip 5: You can also take a look at the original Dead Sea Scrolls with a visit to the Israel Museum