Heritage of the Holy Land & Jordan Tour – 11 Days / 10 Nights
Weekly Departures from 1st March 2018 – 28th Feb 2019
Day 1
Thursday – Your arrival in Israel (Thursday Arrivals Only)
• Meet and Greet at Ben Gurion Airport Arrivals area
• Transfer by Coach to Tel Aviv
• Accommodation:
– Tourist Class: Seanet / Gilgal
– First Class: Metropolitan / Grand Beach
– Superior Class: Crowne Plaza / Dan Pan
– Delux Class: Carlton/Sheraton
(1 nights – Breakfast Only – Evening Meal add-on available – see prices)
Day 2
Friday – Tel Aviv, Caesarea and Tiberius
• Depart from the Hotel after breakfast
• Short walking tour of Jaffa (Simon the Tanner's house)
• Travel up the old Damascus Road to
• Caesarea (Herod's Maritime Harbour City)
• Visit Megiddo (Armageddon)
• Travel East over the Jezreel Valley to
• Tiberias and the Sea of Galilee
• Check into Hotel
• Accommodation:
– Tourist Class: Prima / Restal
– First Class: Golan / Leonardo
– Superior Class: Caesar / Ron Beach
– Delux Class: Scots / Galei Kineret
(2 nights – Breakfast Only – Evening Meal add-on available – see prices)
Day 3
Saturday – Sea of Galilee
• Depart from the hotel after breakfast
• Start the day in Tiberias before visiting
• Capernaum (Hometown of Jesus) – see Peter's mother in laws house & the synagog
• Visit Tabgha – Loaves and Fishes
• Visit the Church of Multiplication – feeding of 5000
• Visit the Mount of Beatitudes – Sermon on the Mount
• Ascend the Golan Heights for panoramic views of Mt Heron & the Hula Valley
• Return to Tiberias for a evening exploring the town
• Accommodation (as previous night)
Day 4
Sunday – Nazareth, Jordan River, Beit Shean & Jerusalem
• Depart from the hotel after breakfast
• Travel to Nazareth
• Visit the Church of the Annunciation, Mary's well & Joseph's Church
• Next we proceed to Cana – site of Jesus' first miracle at the wedding feast
• Continuing South we travel through the Jordan River Valley to
• Beit She'an – a beautifully preserved Roman city
• We now continue South to Jerusalem
• Accommodation
– Tourist Class: Gold
– First Class: Grand Court / Leonardo
– Superior Class: Crowne Plaza Dlx / Dan Pan
– Delux Class: David Citadel / Mamilla
(4 nights – Breakfast Included – Evening Meal add-on available – see prices)
Day 5
Monday – Masada & the Dead Sea
• Depart from the hotel after breakfast
• Travel into the wildreness towards the Dead Sea
• Pass by Qumran and the caves where the Dead Sea scrolls were discovered
• Visit Masada – Herod's mountain fortress (Cable Car Included)
• Visit the Dead Sea (for a float – weather permitting)
• Return to Jerusalem / Hotel
Day 6
Tuesday – Jerusalem
• Depart from the hotel after breakfast
• Visit Mt Scopus – spectacular panoramic view of the old city
• Visit the Mt of Olives
• Visit the Garden of Gathsemane
• Into the Old city we visit the Western Wall & Temple Mount
• Walk along the Via Dolorosa (Walk of Sorrows – Stations of the Cross) to
• The church of the Holy Sepulchre
• Visit Mt Zion (traditional site of the Upper Room & David's Tomb)
• Return to hotel
Day 7
Wednesday – Jerusalem & Bethlehem
• Depart from the hotel after breakfast
• Visit Yad Vashem (Holocaust Museum)
• Visit Ein Karem (traditional site of the birthplace of John the Baptist)
• Visit the Israel Museum (Shrine of the book – Dead Sea Scrolls and the Second Temple period model)
• Drive by the Knesset (House of Parliament)
• Visit Bethlehem (Church of the Nativity & Rachael's Tomb)
• Return to hotel
Day 8
Thursday – Jerusalem to Amman
• Depart from the hotel after breakfast
• Travel to the Sheik Hussein border crossing point (cross into Jordan)
• Continue to Jerash – city of the Decapolis – visit the Roman city
• Next to Amman – for a city tour of the Jordainian capital
• Transfer to hotel
• Accommodation
– Tourist Class: Liwan
– First Class: Grand Palace
– Superior Class: Regency Palace
– Delux Class: Amman Marriott
(1 night – Breakfast Included – Evening Meal add-on available – see prices)
Day 9
Friday – Amman, Madaba, Mt Nebo, Shobak & Petra
• Depart from the hotel after breakfast
• Travel to Mt Nebo – where Moses viewed the promised land
• Continue South to Wadi Musa – modern village of Petra
• Visit Petra – world heritage site
• Return to Wadi Musa
• Accommodation
– Tourist Class: Amra Palace
– First Class: Petra Panorama
– Superior Class: Petra Marriott
– Delux Class: Petra Marriott
(1 night – Breakfast Included – Evening Meal add-on available – see prices)
Day 10
Saturday – Petra, Wadi Rum Jeeps, Madaba, Amman
• Depart from the hotel after breakfast
• Drive South to Wadi Rum
• Jeep Safari into the stunning landscape (Lawrence Spring and Khazali Canyon)
• Drive North to Madaba (oldest depiction of the Holy Land)
• Continue to Amman
• Accommodation
– Tourist Class: Liwan
– First Class: Grand Palace
– Superior Class: Regency Palace
– Delux Class: Amman Marriott
(1 night – Breakfast Included – Evening Meal add-on available – see prices)
Day 11
Sunday – Amman to Tel Aviv, Jerusalem or Ben Gurion International Airport
• Depart from the hotel after breakfast
• Cross border back into Israel
• Transfer to Tel Aviv, Jerusalem or Ben Gurion International Airport
Included
What the Tour Includes
Airport Transfers: Collection and Drop off at Ben Gurion International Airport (Meet and Greet)
Transportation: Fully Air-conditioned Coach with PA System
Accommodation:
10 nights accommodation on bed and breakfast basis
Guide: Certified Tour Guide
Entrance Fees: All tickets & entrance fees are included in the price
Not included:
Porterage at airport.
Tipping for guide, driver and hotel staff.
Beverages with meals.
Personal medical / baggage insurance.
Entry Visa to Jordan (if required for restricted nationalities)
Border Taxes & Border Shuttle transfers – Israel & Jordan
(approx. US$48 per person – paid on tour – subject to change)
Notes:
1. The tour is on a guaranteed departure basis – subject to a minimum of 2 participants.
2. The sequence of the tour, hotels used, and sites visited may be amended due to circumstances.
3. Reservations received less than 14 days prior to departure are on a request only basis.
4. Sites within Palestinian areas are subject to situation
Guides: Guides / Drivers for our guaranteed weekly tours may not be Christian / Messianic – most are Jewish. Our Christian / Messianic guides are reserved for bespoke Christian Group Tours and our one day tours (Baptism Tour, Jerusalem Tour, Dead Sea Tour & Galilee Tour). All weekly tours however do visit a variety of Christian sites.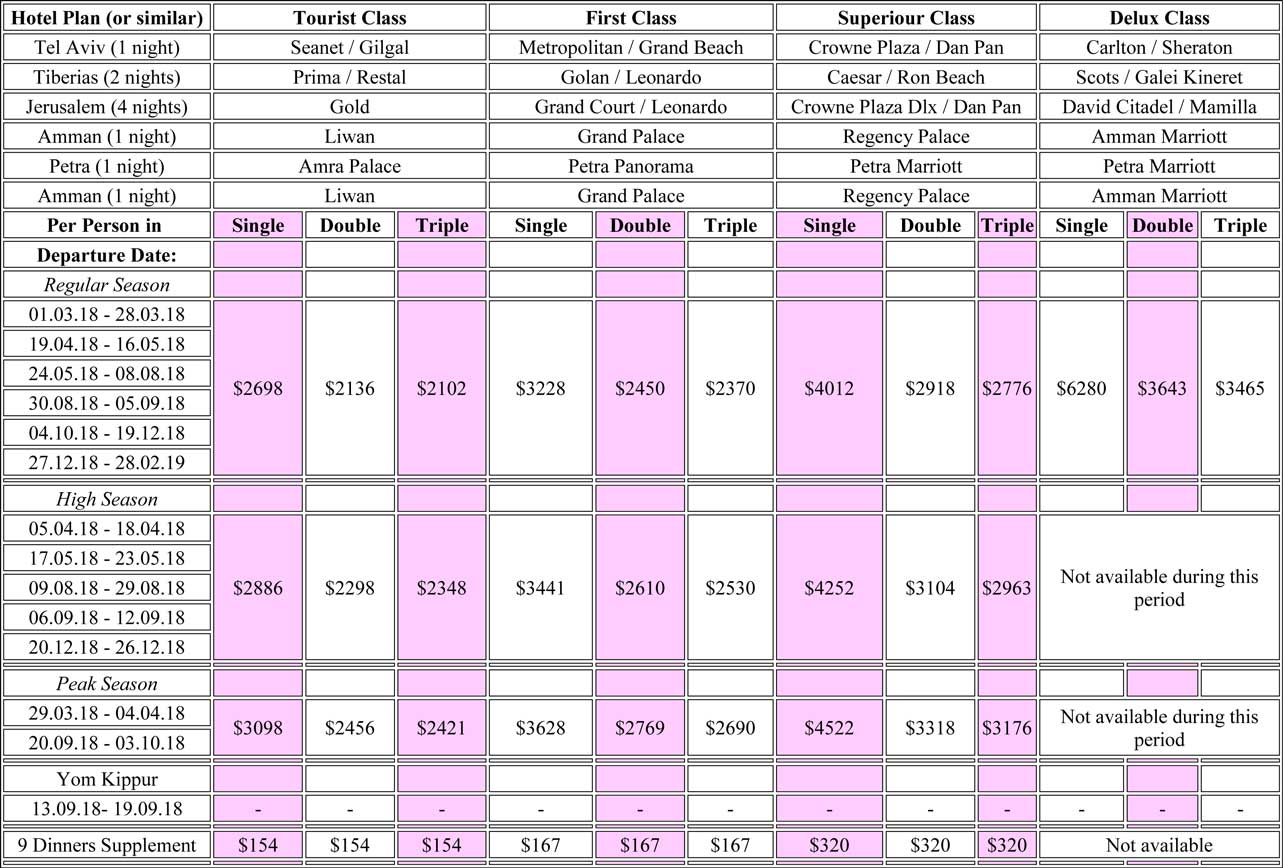 Child Rates:
Tourist & First Class: Child (2-12) sharing parents' room – reduction on double rate 20%
Superior & Deluxe: Child up to age 18 sharing parents' room – reduction on double rate 40%
Request Quotation
Please fill in the form below to request the and one of our staff will contact you.