Visit Eilat and the Red Sea – Holy Land Tours of Israel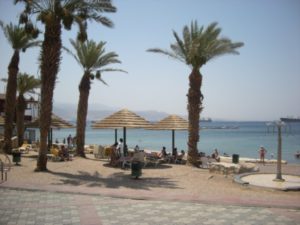 Visit Eilat and the Red Sea
Eilat is located at the northern tip of the Red Sea and is part of the Negev desert within sight of Jordan, Egypt and Saudi Arabia.
It's arid desert climate, low humidity and warm sea make this a popular destination for those wanting to chill out on the beach or try their hand at sports like Scuba Diving, Snorkelling or Kite Surfing.
Boasting a coral reef dive area, city beaches, desert landscapes and 20th century malls & shopping, Eilat has something to offer everyone.
Eilat is also one of the oldest copper mining locations on Earth.
Tips and advice for your Holy Land Tour
Tip 1: Take a visit to Eilat Stone on route to Eilat. Here visitors are given a free demonstration of how the Eilat stone is shaped, polished and made into jewellery.
Tip 2: Visit Israels largest indoor shopping mall, with its own indoor Ice Rink. Ideal for grown ups and kids alike!
Tip 3: Why not add onto your Holy Land Tour a one day excursion to Petra in Jordan? Eilat is only a few hours drive to this unique location.
Tip 4: On route to Eilat make a stop at the Life Sized Tabernacle which has been constructed in the desert.
Tip 5: Make you trip a one to remember by trying snorkelling on the coral reef.