Bibleland Tour – 8 day / 7 night Tour
Weekly Departures from 5th March 2018 – 3rd March 2019
Day 1
Monday – Your arrival in Israel (Monday Arrivals Only)
• Meet and Greet at Ben Gurion Airport Arrivals area
• Transfer by Coach to Jerusalem
• Accommodation:
– Tourist Class: Gate / Rimonim Shalom
– First Class: Grand Court / Leonardo
– Superior Class: Crowne Plaza Dlx / Dan Panorama
(3 nights – Night 1: Breakfast Only)
Day 2
Tuesday – Jerusalem & the New City
• Depart from the Hotel after breakfast
• Drive to the top of the Mount of Olives
• Panoramic view of the Old City (Hinnon, Tyropoeon and Kidron Valley's, Southern Steps)
• Visit the Garden of Gethsemane / Church of All Nations (Church of Agony)
• Visit the Israel Museum (Jerusalem Model, Shine of the Book (Dead Sea Scrolls))
• Visit Yad Vashem (Halocaust Museum)
• Visit Ein Karem (traditional birthplace of John the Baptist)
• Return to Hotel for Dinner (Breakfast & Evening Meal Included)
Day 3
Wednesday – Jerusalem Old City and Bethlehem
• Depart from the hotel after breakfast
• Visit the Jewish Quarter, Temple area (Western Wall) and Bazarrs
• Walk along the Via Dolorosa (stations of the cross) to the
• Church of the Holy Sepulchre
• Visit Mt Zion (King David's tomb, Upper Room & Dormition Abbey)
• Travel to Bethlehem for the afternoon
• Visit the Church of the Nativity & the Shepherds Fields
• Return to Hotel for dinner – (Breakfast & Evening Meal Included)
Day 4
Thursday – Beit She'an, Nazareth & Galilee
• Depart from the hotel after breakfast
• Depart from Jerusalem towards the North
• Pass by Jericho (where the walls came tumbling down)
• Continue through the Jordan River Valley to
• Beit She'an (beautifully preserved Roman city)
• Continue to Nazareth (Church of the Annunciation & Joseph's workshop)
• Continue to Safed (city of the Kabala) before taking a stroll through mystic alleys, visiting the synagog ending at the artists' colony
• Transfer to your Kibbutz accommodation
– Tourist Class: Kibbutz Kfar Giladi
– First Class: Kibbutz Kfar Giladi
– Superior Class: Kibbutz Kfar Giladi Boutique
(2 nights – Breakfast & Evening Meal Included)
Day 5
Friday – Golan Heights & the Sea of Galilee
• Depart from the hotel after breakfast
• Drive to the Golan Heights (pass by a few Druze villages)
• View a Syrian fortification
• Enjoy a wine tasting tour of the vineyards
• Pass by Banias (Caesarea Philippi – "who do people say am?")
• Visit Capernaum (hometown of Jesus) – see Peter's House and the ancient synagog
• Visit Tabgha – Loaves and Fishes
• Short tour of the old center of Jewish Learning – Tiberius
• Optional: Boat Ride of the Sea of Galilee (subject to conditions & fee)
• Return to the hotel
Day 6
Saturday – Acre (Akko) / Haifa / Caesarea / Tel Aviv
• Depart from the hotel after breakfast
• Depart Galilee to the west towards Akko (Acre)
• Visit the famous Crusader Stronghold and medieval fortifications.
• Continue to Haifa (panoramic tour of the city, Baha'i shrine, Persian Gardens, Haifa Bay & Mt Carmel)<
• Continue South to Herod's Maritime Harbour City (Caesarea)
• Enter Tel Aviv / Jaffa (Joppa) from the North for a short tour of the city
• Transfer to your hotel accommodation
– Tourist Class: Seanet / Olympia
– First Class: Metropolitan / Grand Beach
– Superior Class: Crowne Plaza / Dan Panorama
(2 nights – Breakfast & Evening Meal Included)
Day 7
Sunday – Tel Aviv (Optional Tour to Masada & the Dead Sea)
Day of leisure in Tel Aviv (on the beaches or in the city)
** Optional tour to Masada & the Dead Sea. (supplement: $79 net per person) **
Day 8
Monday – Fairwell's
• Depart from the hotel after breakfast

• Transfer to Ben Gurion Internation Airport for flights home
Included
What the Tour Includes
Airport Transfers: Collection and Drop off at Ben Gurion International Airport (Meet and Greet)
Transportation: Fully Air-conditioned Coach with PA System
Accommodation:
7 nights on B&B basis – as per selected option (Lunches not included)
6 Dinners (Evening Meals) from 2nd night
Guide: Certified Tour Guide
Entrance Fees: All tickets & entrance fees are included in the price
Not included:
Porterage at airport.
Tipping for guide, driver and hotel staff.
Beverages with meals.
Personal medical / baggage insurance.
Optional Masada & Dead Sea tour on Sunday – $79 net per person
Notes:
1. The tour is on a guaranteed departure basis – subject to a minimum of 2 participants.
2. The sequence of the tour, hotels used, and sites visited may be amended due to circumstances.
3. Reservations received less than 14 days prior to departure are on a request only basis.
4. Sites within Palestinian areas are subject to situation
Guides: Guides / Drivers for our guaranteed weekly tours may not be Christian / Messianic – most are Jewish. Our Christian / Messianic guides are reserved for bespoke Christian Group Tours and our one day tours (Baptism Tour, Jerusalem Tour, Dead Sea Tour & Galilee Tour). All weekly tours however do visit a variety of Christian sites.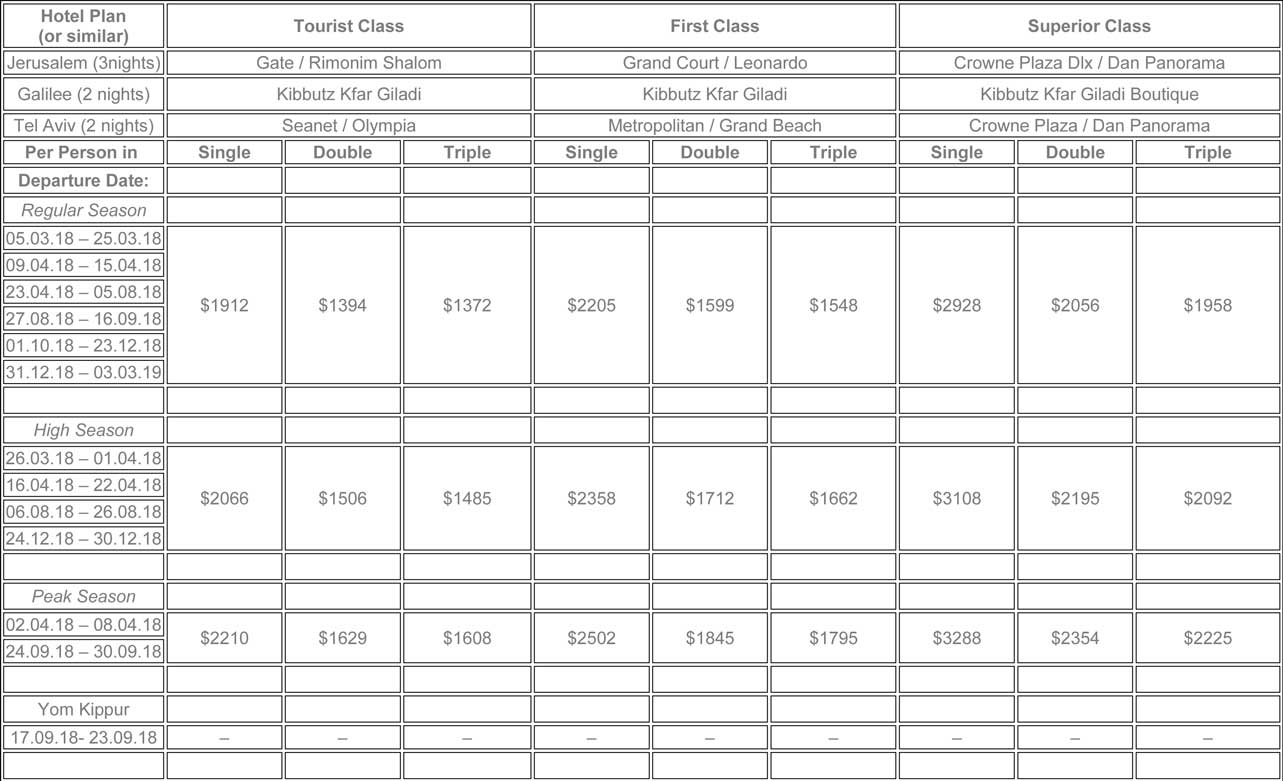 Child Rates:
Tourist & First Class: Child (2-12) sharing parents' room – reduction on the Double rate 20%
Superior: Child up to age 18 sharing parents' room – reduction on the Double rate 40%
Request Quotation
Please fill in the form below to request the and one of our staff will contact you.