Our One Day Jordan River Baptism Group Tour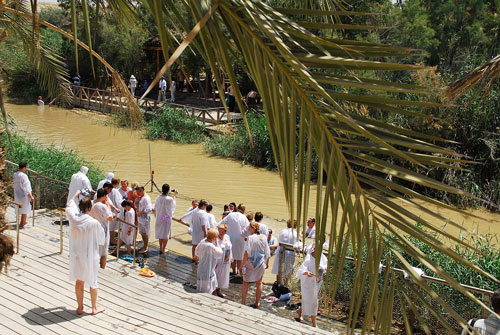 begins in Jerusalem (or Tel Aviv*), where one of our private air conditioned coaches will come and collect you (and your group) from your hotel.
Once onboard, you will be whisked away for a full day of revelation and blessing as you begin your new life in Christ.
The main tour departs from Jerusalem to the East.  You will first travel down the Old Jericho Road towards the Dead Sea and into the Judean Desert.  On route you will stop at the Old Pilgrims Road and Wadi Qelt before arriving at Qasr El Yahud (Bethany By The Jordan).
On arrival at the Jordan River Baptismal Site, each participant will have the opportunity to be baptised at the place believed to be the traditional site of the baptism of Jesus by John. 
(Robes & certificates are provided at the baptism site but it is advisable to take along a towel, full change of clothes, swimming gear and some people also take flip-flops. For more information on the baptism ceremony see the MORE INFO tab above.)
After your baptism in the Jordan River, the tour will follow in the footsteps of Yeshua and head West into the ancient city of Jericho.  Here you will visit the viewing point at the foot of the Mount of Temptation, to see where Yeshua was tempted after fasting for 40 and 40 nights, before been taken for a closer look at the ancient walls that came tumbling down and the traditional site of Elisha's well.  
Moving on from Jericho your guide will then take you for a quick bite to eat before moving onto your next stop – the Dead Sea.  Here you will have the opportunity to try out the waters in which you cannot sink!
The final stop of the tour will be a visit to Bethlehem – the town where it all began, where you will have the opportunity to visit the church of the Nativity & the Shepherds Field (fields of Ruth & Boaz).  The tour will re-enter Jerusalem via the Mount of Olives where you will see a panoramic view of the Old City before being taken back to your hotel.
Collection from your hotel
(Jerusalem or Tel Aviv* – for Tel Aviv an additional surcharge of $30 per person will be made)
All Transportation
All Entry Fees
Baptism Ceremony, Robes and Certificate
Christian Guide & Driver
Sites / Locations Visited
View on ancient pilgrims road
Judean wilderness
Wadi Qelt
Qasr el Yahud – Jordan River Baptismal Site
Mt of Temptation viewing point
Jericho (Ancient Walls)
Elisha's Well
Dead Sea (for a swim)
Bethlehem (church of the Nativity & Shepherds field) *
Mt of Olives viewing point
* subject to political situation at any given time
Who carries out the baptism? 
We get asked this a lot so please refer to the explanation below
We use Spirit Filled Christian Guides / lay preachers mostly for baptisms.  Sometimes we can get pastors / priests but it depends on availability.
If you are specifically looking to find an Ordained Church of England or Methodist type pastor / priest then you will need to contact your local church to find out if they have a branch in Israel and if one of their clergy would be willing to travel to the baptism site for you.
We offer Christian baptisms to believers in Yeshua (Jesus) by Spirit Filled believers in Christ (The body of Christ) – we don't baptise based on a specific religious doctrine or a set of traditions.  The baptisms we carry out (or our staff carry out) are Bible based (in line with Scripture) and are done as an act of commitment / giving our lives over to Yeshua (a recognition that the old life has been crucified with Christ and that we are all now new creations in Him) rather than just following a set of religious rules / traditions as set down by the many, many different religious doctrines in Israel and throughout the world.
Our guides / staff are not tied to any specific Christian church doctrines;  Most are attached to Charismatic / Evangelical / Non-Denominational churches in Israel rather than specific doctrines.  
We do give out certificates at the baptism site but again these are only given to believers as a reminder / memento of when they gave their lives publicly to Yeshua (Jesus) – they are not certificates linked to any specific church or doctrine.
For any more information, please email us.
Do you offer tours for groups?
This is a group tour but if you mean can you bring along your own large group, the answer is yes.  For group discounts, please email us directly.
Prices for the One Day Baptism Group Tour
Adults: $180 per person
Children: $165 per child
Tel Aviv Collection / Drop-off Supplement: $30 per person
Booking:
1. When booking you must know where you will want you collection / drop-off point to be. 
    (Jerusalem or Tel Aviv)
2. You will be asked to pay a non-refundable* deposit when booking the tour.  This normally equates to around $25 – $30 per person (15% – depending on numbers / seasonal dates).  The balance for your tour should be paid in cash (on collection at your hotel) in either US Dollars or NIS Shekels.
* if you need to cancel your tour due to COVID19 or for any other reason, your non-refundable deposit will be held for a period 12 months (from your original tour date) and can be used as a deposit for any of our other tours.  Your cancellation must be sent to us via email at least 3 days prior to your tour date (unless a non-avoidable situation arises (ie Government lockdowns, flight bans etc))
We must impose this deposit system as in the past we have had many tourists book onto tours, often booking many people (reserving guides and transportation), only to find that on the day they never showed up for collection (or to pay for their tours).  As a result guides / drivers were left without wages and work, as many had turned down other work to enable pre-booked tours to happen.
Larger Groups / Families: Please email us for pricing details for larger groups or families.
[et_pb_wc_add_to_cart product="206369" _builder_version="4.7.3" _module_preset="default"][/et_pb_wc_add_to_cart]
To book a place on this tour:
1. Choose a date
(available dates in dark grey)
2. Select your number of adults / children
3. Select your collection / drop-off location
4. click BOOK NOW
Note: a deposit of around $25 - $30 per person will be required to confirm this booking. The deposit payable will be calculated / confirmed on the checkout page before payment is taken.
For collection / drop-off outside of Jerusalem a fee of $30 per person will be added to your tour. This is due to the extra time / mileage involved in collection / drop-off.
Exact Collection / Drop-off times will be confirmed via email closer to your tour date - once the passenger list is known / confirmed.
One Day Baptism Tour

(Group)
Tour Details
Tour Type:
Class:
Duration:
Participants:
Price:
Group Tour
Business Class
8:00am – 6:00pm
6 – 24 Passengers
$180.00
Additional Info
Pace:
Entrance Fees:
Baptism Gowns:
Certificate
Tips:
Lunch:
Easy Going
Included
Included
Included
Not Included
Not Included