Israel Tour Group Offers 2020 / 2021 – Tour Israel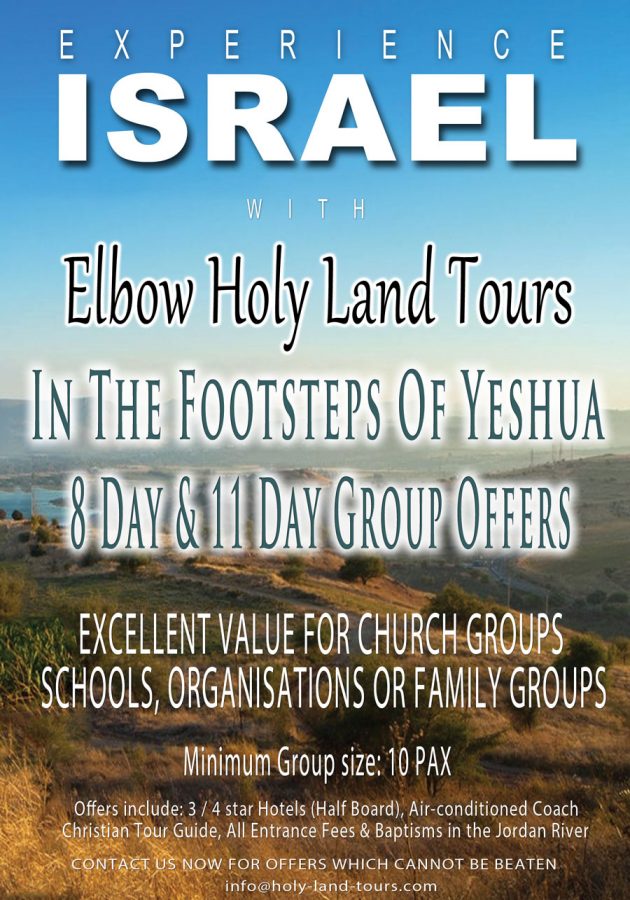 If you are considering a Christian group tour of Israel in 2020 / 2021, we may just have the offer you have been looking for.
We have several Holy Land Tour Group Offers for 2020 / 2021 available including an 8 day offer, 11 day offer and an amazing 11 day offer, with a desert safari included. All of our offers include good quality accommodation (Based on Half Board – Breakfast and Evening Meal), Superb Transportation, Christian Tour Guides, All Admission Fee's, Baptism's in the Jordan River (if required) plus round the clock support for your group while in Israel.  (If our group offers are not to your specification, remember we can build made to measure tours for Christian groups of all sizes and budgets.)
The minimum amount of passengers required to qualify for a Israel tour group offer is ten but groups of less than 10 can also take advantage of our made to measure service (with no obligation to use us if you are not happy with our quotation) – so if you have ten or more passengers waiting to walk in the footsteps of Yeshua, contact us today for more details.
Christian Israel Tours – Group Offers 2020 & 2021
Honest & Trustworthy – we operate to bring the Lords people to His promised land as a light in the darkness
Free no obligation quotations
Spirit Filled Christian Guides (not just a Christian tour by name only)
Good quality accommodation (in safe areas)
Superb Transportation (with AC and Wifi as standard)
ALL admission fees included in prices
No Hidden Extra's
24 hour support while on tour with us
Links with a vast array of Christian churches / associations around the world
Bespoke experiences that no other company can provide for your group
See the Christian life lived out (in the middle East) by Spirit Filled believers
Step 1
Request Our 2020 / 2021 Israel Tour Offers
Click on the 'Request Brochures' link above, fill in the form and we will send you a copy of our 2020 / 2021 Israel Tour Group Offer Brochures
Step 2
Decide on a date for your tour
The first step to booking your tour with us is to decide on a date. Due to the volume of bookings we receive on a weekly basis for our 2020 / 2021 Israel Group Tour Offers, we cannot stress highly enough the need to reserve your dates as quickly as possible to avoid disappointment. We only have a finite number of tour guides / coaches available for our Israel tour offers, so groups are booked on a first come / first served basis. Once all of the available offer slots are gone, tours will still be available but not at the reduced rates listed on our offers.
Tip 1: When deciding on dates for your tour keep in mind that dates which coincide with Major Jewish Feasts / Holidays will require an additional supplement. To take advantage of our group offers to the full, try to plan your dates NOT to coincide with Major Jewish feasts. To see a list of Major Jewish Feasts / Holidays check out these links:
Hotels during Major Jewish Feasts / Holidays can triple in cost. If your dates coincide with a Major Jewish Feast, please contact us for a price.
Tip 2: Don't wait until you have all of your passengers before reserving a date. Once your dates are reserved you will be able to add passengers to your tour right up until 4 – 6 weeks prior to the departure date, depending on the season. Hotels can book up 12 month in advance.
Step 3
Agreeing an itinerary and payment plan
Once you have decided on your dates and made a reservation, we will then discuss with you any minor changes you may wish to make to the planned itinerary to suit your groups exact requirements. In addition, we will also agree a payment plan that suits your needs.
Step 4
Completing the booking form
After your dates, itinerary and payment plan is agreed we will send you out a booking form with an area on it for you to list all of your passengers and rooming requirements. On the form will also be details of all of the prices we agree, along with full terms and conditions
Step 5
Payment for your tour
One week before the first agreed date for payment we will request that you send us your completed booking form to allow us to draw up an invoice for you. This invoice will then be sent out to you and will include full instructions on how to make payment via your bank's IBAN (International Bank Transfer System)
Future invoices will be sent out one week before each of your agreed dates until your tour is paid for in full
Once your tour is paid for in full, let us do the rest. We will send you full details of your tour including arrival instructions and will be there for you everyday until your tour with us is over